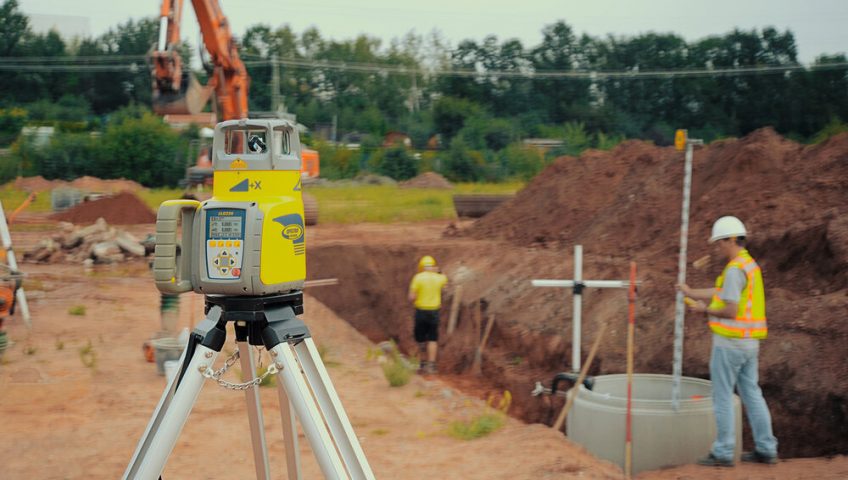 All construction operations share the common goal of finding solutions that simultaneously improve project productivity and encourage operator success. 2D and 3D construction technologies offer unique features that will expand the capabilities and performance of your machines while meeting your project and operator efficiency requirements.
At SITECH Horizon, we offer scalable 2D and 3D technology platforms. If you use the software at the 2D level, you can easily upgrade to the 3D version since each machine control system has a common platform that makes updates easy. The stackable feature makes your platform versatile across applications by adding the software and hardware you need without replacing the entire system.
2D Construction Technology
2D construction technology depicts concepts through drawings and diagrams. It is the standard format that many construction companies — especially small-sized firms — rely on. A 2D diagram can place the basic design elements of the area or structure for the stakeholders to reference.
The benefits of 2D construction technology are:
Simplicity: A 2D map provides an overhead view of the job site to compare changes over time or inspect specific areas at a glance.
In-field performance: 2D software has a performance advantage over handheld devices, making it easier to use in the field.
Some 2D platforms available on the market include:
2D Cat® Grade Slope Assist: This system maintains the operator-defined blade position to the machine, which increases the accuracy and consistency of each pass. Operators can improve their productivity while decreasing their inputs.
2D Trimble Earthworks Laser: This platform uses laser receivers to control the cutting edge position on a dozer or motor grader. These 2D construction lasers provide a cutting edge position relative to the laser catcher and machine and show these targets on the display.
3D Construction Technology
3D construction technology is a step up from 2D technology, offering more detailed visualizations and representations of job site conditions, structures before they are built and more.
The advantages of 3D construction technology include:
Higher profits: 3D technology can assist your company with estimating job costs and creating the bid. With them, you can complete tasks faster and more accurately, reducing the project life cycle. You'll also have lower paperwork and material costs.
Better relatability: 3D depictions more closely represent the way people make sense of their environment. Seeing the 3D rendering ensures everyone involved in the project understands the concept the same way.
Improved satisfaction: Stakeholders will be happier with the project's final result as it will look like the 3D rendering you shared during the planning stages.
Some examples of 3D platforms include:
Trimble Base and Rover system: The Trimble Siteworks construction surveying software uses 3D design data to check the grade, make in-field volume calculations, place stakes and more. It enhances your productivity by providing you with otherwise impossible capabilities and eliminates the need for a third-party surveyor.
3D machine control: A 3D machine control platform offers features like GPS to get an accurate picture of the site layout. Use real-time kinematic (RTK) positioning and machine control to grade faster without over- or undercutting.
Universal Total Station: Universal Total Station (UTS) provides accuracy within 0.25 inches for earthmoving machines using line-of-sight controls and 20-hertz communication protocols. Accurately planned and estimated jobs will not overrun the materials, which leads to cost savings. This construction surveying platform is ideal for areas that struggle to get a strong GPS signal despite their need for accuracy.
Learn More About 2D and 3D Construction Technology Today
SITECH Horizon offers rugged and reliable construction technology systems for any equipment type and application. Our solutions use Trimble and Cat technology to improve your project's accuracy and efficiency. Contact us online or call 704-644-0660 to learn more.