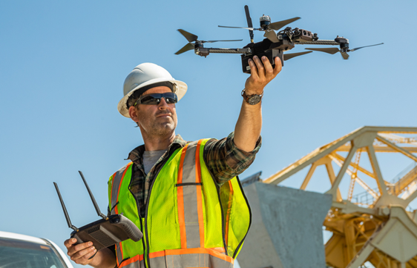 Drone Service
At SITECH Horizon, we use technology from Trimble and a variety of other OEM partners to help solve some of the biggest challenges on construction sites. One of the many solutions we offer is our drone service, which enables you to capture aerial views of your job site and create 3D models with precision and high-level accuracy. With this data, our team of experts can aid in the decision-making process to ensure your job site maintains optimal productivity and efficiency.
How Can Construction Companies Use Drones?
Construction companies can utilize drones in a variety of ways.
Project Reporting and Collaboration
At SITECH Horizon, we combine propeller drones with Trimble software solutions to provide easily accessible 3D models that enable greater collaboration in projects. Whether your team is across the field, in the warehouse or at the office, everyone will have access to accurate and up-to-date information.
Asset Inventory
Another potential use of drones is to perform inventory assessments. Images with a higher level of detail will help your team ensure enough building materials are present to complete jobs on time. Using drones can also reduce the danger of reaching inventory in hard-to-reach places.
Planning and Design
By combining our Trimble software and high-precision drone capabilities, we grant your construction site access to 3D images for jobsite evaluation and productivity analysis. Trimble software solutions, such as Trimble Stratus, allows you to create virtual walkthroughs of project plans and spot hazards before they cause delays.
Site Analysis
Site analysis is typically the first step of any construction project. You can complete this step more quickly and efficiently with the use of aerial views and high-speed data intake for more accurate data. Precise data intake can ensure project progress across multiple teams without wasting time and capital waiting for results.
What Are the Benefits of Drone Mapping?
Drones are an ideal tool for construction sites, as they enable teams to gain access to accurate data while reducing the need for capital investments and skills. Some additional benefits of implementing Propeller drone construction services include:
A drone can survey a 120-acre site in under two hours. Since drone surveying can complete jobs in a shorter time, significant on-site changes throughout the survey process aren't much of a concern.
Traditional surveying takes more time and requires highly skilled individuals, which can result in hefty costs for your construction company. With drone surveying, you can feel confident you will complete your surveying job accurately and on time to reduce variable costs.
Construction is dangerous, and surveyors often have to enter hard-to-reach areas. Using a drone enables your workers to complete surveying from the safety of an office or workstation without exposing themselves to risks.
Drone photogrammetry involves measuring real-life distances with overlapping photos that consider different angles and perspectives. In a single flight, a drone can quickly and accurately create a complete map of a surveyed site with accurate measurements, elevations and volumes.
Survey Your Job Site Confidently With Drone Services From SITECH Horizon
We are proud to be a leading distributor of high-quality construction technology systems for teams in North Carolina's Western and Piedmont regions. We will help you leverage the latest drone technology for your fleet and serve as local experts for Trimble Connected Site® and other software. Request a quote to learn more about our construction technology solutions today!