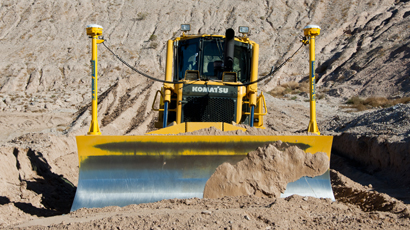 No matter how beautiful a structure could be, it won't get built without a level surface. Uneven ground can pose a significant challenge for any project and lead to costly reworks and limitations on the rest of the job. With the right equipment and information-gathering capabilities, you can better ensure your project starts with an evenly graded surface.
SITECH Horizon is your trusted source for renting Trimble technology and Cat grading machinery and earthworks hardware in the western and Piedmont regions of North Carolina.
Earthwork and Grade Control System Rentals
With SITECH Horizon and technology from Trimble, the inventors of grade control, we can set you up with capable equipment that's right for your line of work. We have a wide range of grade and compaction control equipment for the following types of Cat machinery:
Asphalt and soil compactors
Compact machines
Dozers
Excavators
Motor graders
Scrapers
Wheel loaders
These solutions are designed to deliver optimization at every step of your project. At the grading level, these tools provide millimeter accuracy with fewer passes to keep over- and under-cutting to a minimum, help your less-experienced operators and eliminate manual staking and bluetops.
The intelligence of Trimble solutions is also a valuable addition to any job site. These powerful, integrated systems allow you to:
Synchronize your 3D design data wirelessly to minimize site visits.
Get real-time updates to measure productivity and monitor material placement with the equipment.
Remotely connect to the machine for training, support and monitoring from anywhere.
Surveying Systems for Rent
Site positioning systems from Trimble are a contractor's best friend. They can improve efficiency, help you meet tight specifications and avoid rework in the future through connected machinery and the ability to position and collect accurate information from anywhere.
Surveying solutions for rent include:
Global navigation satellite system (GNSS) antennas, correction sources, radios and receivers.
Robotic and universal total stations.
Trimble tablets, controllers and hand-held devices.
Siteworks Positioning Systems.
These surveying systems can be true assets to your operation, enabling more efficient practices that save time and costs.
Why Rent Machine Control and Surveying Equipment?
Depending on your work, business needs and financial situation, renting can be an excellent solution for organizations:
Affordability: Many businesses don't have the funds to buy equipment outright, and rentals offer a more cost-effective approach to getting these valuable tools with affordable monthly payments.
Greater versatility: You may not need the same equipment from job to job. By renting, we can swap you out with the right tools as needed.
Well-maintained equipment: Our rental tools are all well-maintained and regularly tested for functionality by professionals, so you can expect quality supplies with each rental.
Your Source for Trimble Technology and Cat Equipment Rentals
When it comes to getting the best rental service for Cat equipment and Trimble surveying and earthworks systems, SITECH Horizon can help. We carry a full portfolio of these tools with flexible rental options to meet your organization's unique demands. Work smarter and faster on your next job site with SITECH Horizon rentals.
To learn more about our equipment, browse our surveying and machine control options, or reach out to us for more information.