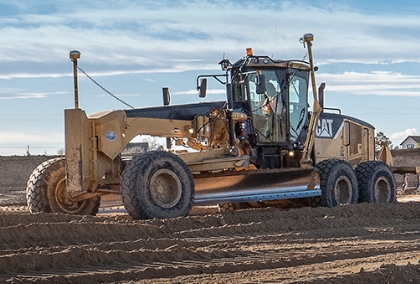 At SITECH Horizon, we understand that downtime of your equipment can cause losses in both time and money. To best support our customers, we offer a fully equipped, certified service center with factory-trained & certified service technicians with years of experience. We can service and repair a wide range of Trimble Machine Control and Site Positioning equipment, as well as the full line of Spectra Precision lasers. Whether it's yearly calibrations, simple to complex repairs, software maintenance, or anything else your equipment might need, SITECH Horizon is here to support you.
Our In-Shop Services
No matter which of our services you choose, one of our factory-trained and certified technicians will provide the assistance you need. With our knowledgeable and experienced service professionals on your side, you can always expect to receive the most dependable and efficient support in the region. When you come to our Charlotte, North Carolina service center, you'll get to choose from a wide range of installation and repair options for your equipment.
Trimble Total Stations

Receiver

Radios

Base Stations

Data Collectors

Machine Displays

Lasers

Laser Receivers

Electric Masts
Your Global Navigation Satellite System (GNSS) is responsible for retrieving vital timing and positioning data from space, enabling you to accurately pinpoint and monitor your fleet's exact locations on the job site. As a result, your crew can minimize errors, saving your company time and money. But what happens when your GNSS malfunctions?
If you experience an issue with your GNSS, you can bring it to our shop for fast and efficient repairs. We can perform GPS receiver repairs for a wide range of GNSS equipment, including masts, controllers, radios and receivers.
Site surveying equipment makes multiple-job-site management simpler than ever, keeping your crew connected and informed by effortlessly delivering, measuring and recording accurate positioning and digital design information. With our site survey equipment services, you can ensure that your site positioning systems maintain precise operations at all times. Our technicians work with a wide range of solutions, such as total stations, transits, auto levels and data collectors.
We carry a wide range of Trimble® machine control systems designed to streamline operations on the construction site through high-precision grading, smooth and efficient paving, and improved heavy equipment performance. At SITECH Horizon, we can install or repair a wide range of excavator, wheel loader, paving control and grade control equipment in our convenient shop environment. 
If you have any general construction technologies you'd like to repair, replace or install on your machines, our expert technicians can help. Whether you're looking to implement a new construction laser or repair an old one, we welcome you to come to our shop so we can get the job done as efficiently as possible. Types of technology solutions we can service include pipe lasers, leveling lasers, slope lasers and grade lasers.
Invest in GPS Receiver Repairs and More at SITECH Horizon Today
If you require in-shop construction technology services from trusted industry leaders, trust the team at SITECH Horizon. Our technology solutions make heavy construction project management seamless. Contact us today for more information on our shop services!